How can you help?
SEMADEP has a proven track record of taking the kind support we have been given and using it to benefit our community. That is why we were highly commended in the Virgin Holidays responsible tourism awards.
Our aim is to generate as much of the funds needed to run our numerous projects through the Safari camp but due to the size of the community and the scale of the task we need additional financial support. Companies such as CISCO have generously supported the development of our Knowledge Centre and the input of our Dutch friends has been vital in getting the Medical centre where it is today but we need additional support to maintain the projects.
Ideally many of the facilities we provide would be state supported. But sadly the only thing currently provided by the state are the drugs for our clinic.
So where do you come in, well the main way is to come to the camp experience what we have to offer and be secure in the knowledge that the money you pay for the game drive and accommodation is being used for the good of the community.
As well as volunteering your time and skills while with us you could sponsor a child to help them get through their education. Schooling fees uniforms and books are just some of the expenses needing to be covered in order to give a child an education.
To discuss how you can best help Semadep contact our manager James Ole Lesaloi jplsemadep@gmail.com
Our Projects and partnerships
• Sekenani Community Health Centre- providing medical care
and education for the community.
This project was funded by: Semadep, World Vision (Maasai Peoples Project), Semadep foundation (Holland), Kenyan Ministry of Health and Narok County Council.
Semadep built the facility and equipped it and support a lab technician and a pharmacist and the Kenyan Government provide two nurses and a lab technician.
• Sekenani Community Knowledge Centre- access to computers and the internet
as well as training
Implemented with the support of: CISCO Systems Inc and AfriAfrya (An African network that promotes Better Health and Knowledge through Information Technology).
This project uses the old medical centre building and the management and security is provided by Semadep. CISCO provived 15 computers, 2 printers and solar panels to provide power for the computers. AfriAfrya provide support us to employ two staff.
• A water Project- the construction of a shallow well providing clean drinking water
for the local villages.
This was funded by the local community through Semadep and an individual sponsor from Germany.
• Sponsorship Programme- We have people who are sponsoring individual children in primary and secondary boarding schools, giving support towards the purchase of school uniforms and books.
• Provision for OVC (Orphans and Vulnerable Children)- We are supporting 1,244 OVCs within our community. 15 Children are supported by St. Paul's Episcopal Church, Fayetteville, Arkansas, USA.
Our other partner in this project is USAID.
• Sekenani primary school- With the support of individual sponsors, local leaders and the community.
• A Pre-school - Providing education for children aged 3-5 and food while at school and staffing.
• Maasai Cultural Villages Initiatives- We are working with 27 settlements in the Maasai Mara, and group them to form an association by the name Maasai Mara cultural villages tourism association, the purpose of the association to end the exploitation of tour driver guides, to the Maasai villages, and bring equitable benefits to the Maasai community.
• A cattle dip- To prevent death through desease of livestock.
• Semadep Camp- The setting up and running of a campsite capable of generating funds to sustain the projects listed above with the aim of combining quality safari game drives and nature walks with the unique experience of getting to know members of the Maasai community.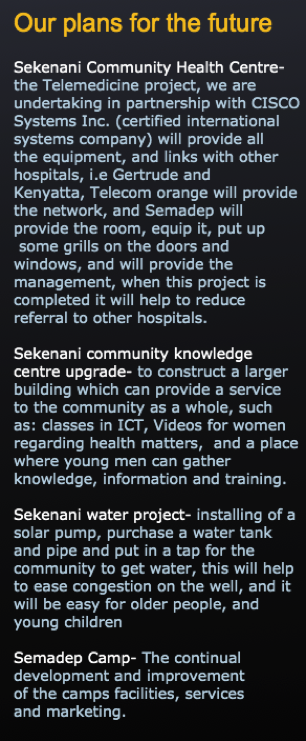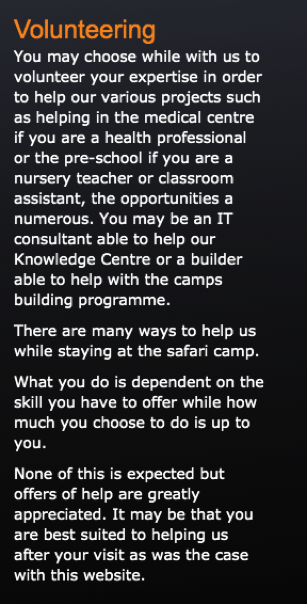 James ole Lesaloi
Managing Director Semadep
Safari / Ewangan Village home stay
P.O Box 353 - 20500
Narok Kenya, Maasai Mara
Telephone (cellphone): +254 721817757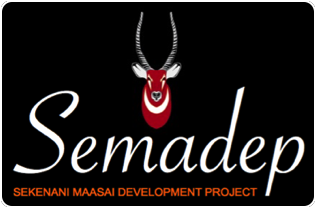 Helping us build a sustainable future
Paypal account: jplsemadep@gmail.com
Would you like to support our work?
We are passionate about the work of the project and happy to answer any questions you may have about the work of SEMADEP
The best way to contact us is by email: